Chapli

30-01-2013
De tafel Chapli is een nieuw ontwerp in de serie RUBBER.

Table Chapli is a new design in the collection RUBBER.

De draaibare/The revolving Iron Maiden

22-04-2012
Vernieuwd ontwerp - De Iron Maiden is een vuurhaard voor buitengebruik, gemaakt van een roestige buis. Zij is draaibaar gemaakt zodat het vuur vanuit iedere gewenste hoek te zien is.

Renewed design - The Iron Maiden is a hearth for outdoor use, created from a rusty tube. The Iron Maiden is able to revolve so that the fire can be seen from every desired angle.
05-01-2012
Publicatie Le Nuage op Design Milk/ Le Nuage featured on Design Milk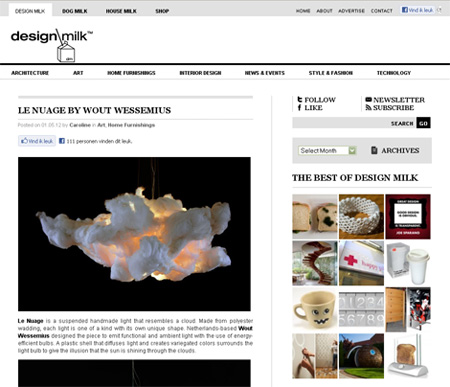 Lees hier het hele artikel / You can read the full article here
17-10-2011
Presentatie verplaatst / The presentation has been moved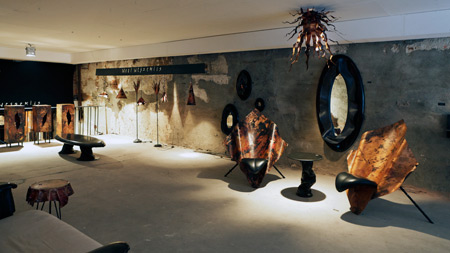 photography: Ewoud Rooks
De presentatie in het pand Oosterstraat 15 is verplaatst naar Oosterstraat 45.
The presentation at Oosterstraat 15 moved to Oosterstraat 45.
16-06-2011
presentatie nieuw werk / Presentation of latest work
In de etalage van het pand Oosterstraat 45 in Groningen kunt u de drankkast Moulin Blanc en het object Cleopatra zien. Dit object is een etalagepop gekleed in rubber en met laarzen van lood.
Place: Oosterstraat 45, Groningen
Here you can see –among older design - the most recent work of Wout Wessemius, the liquor cabinet called Moulin Blanc and Cleopatra, a dummy wearing clothes of rubber and shoes made of lead.
object Cleopatra

16-06-2011
Wout Wessemius heeft al geruime tijd de wens om dameskleding te creëren van de materialen die hij voor zijn interieurobjecten gebruikt. Het object Cleopatra is hiervan een uitwerking

For a long time Wout Wessemius wishes to create clothing from the materials he uses for his interior objects. The object Cleopatra is a result of this development.

drankkast/liquor cabinet
Moulin blanc

16-06-2011
De drankkast Moulin Blanc is een nieuw ontwerp in de serie Rubber.

The liquor cabinet called Moulin Blanc is a new design in his collection Rubber.
29-05-2011


Expositie / Exhibition in the centre of Groningen
Wout Wessemius presenteert tijdelijk zijn exclusieve interieur- en exterieurobjecten in het pand Oosterstraat 15 te Groningen.

Wout Wessemius temporarily presents his exclusive interior and exterior objects in the shop at Oosterstraat 15, Groningen.

Le Nuage

06-07-2010
Le Nuage is een lichtobject met vele decoratieve toepassingsmogelijkheden. Door de materiaaleigenschappen heeft elke lamp zijn eigen unieke vorm.

Le Nuage is a light object with many decorative possibilities for application. Because of its material properties, each lamp has its own unique shape.

tuinbank van lavasteen/garden bench made of lava stone

27-10-2008
Wout Wessemius maakte al eerder een tuinbed en stoel van lavasteen. Hier is nu een buitenbank aan toegevoegd. De bank is te zien in het Dutch Design Hotel in Amsterdam.

Previously Wout Wessemius designed a chair and a garden bed made of lava stone. To this lava stone collection a bench is added. The bench is on view at the Dutch Design Hotel in Amsterdam.

tuinbed van lavasteen/garden bed made of lava stone

28-05-2008
Wout Wessemius heeft een stoel en een tuinbed gemaakt van lavasteen. De afmetingen van het tuinbed zijn 2600 x 1600 mm. De lavastenen zijn met een diamantfrees behandeld en daarna geschuurd. Lavasteen is in vergelijking met andere steensoorten licht.

Wout Wessemius made a chair and a garden bed of lava stone. The dimensions of the garden bed are 2600 x 1600 mm. The lava stones have been treated with a diamond milling cutter and then sanded down lightly. Lava stone is a light stone in comparison with other types of stones.
Wout Wessemius - Schuitendiep 88-2 - NL-9711 RH Groningen - +31 (0) 50-3121103 / +31 (0) 6-51082613 - info@wessemius.nl