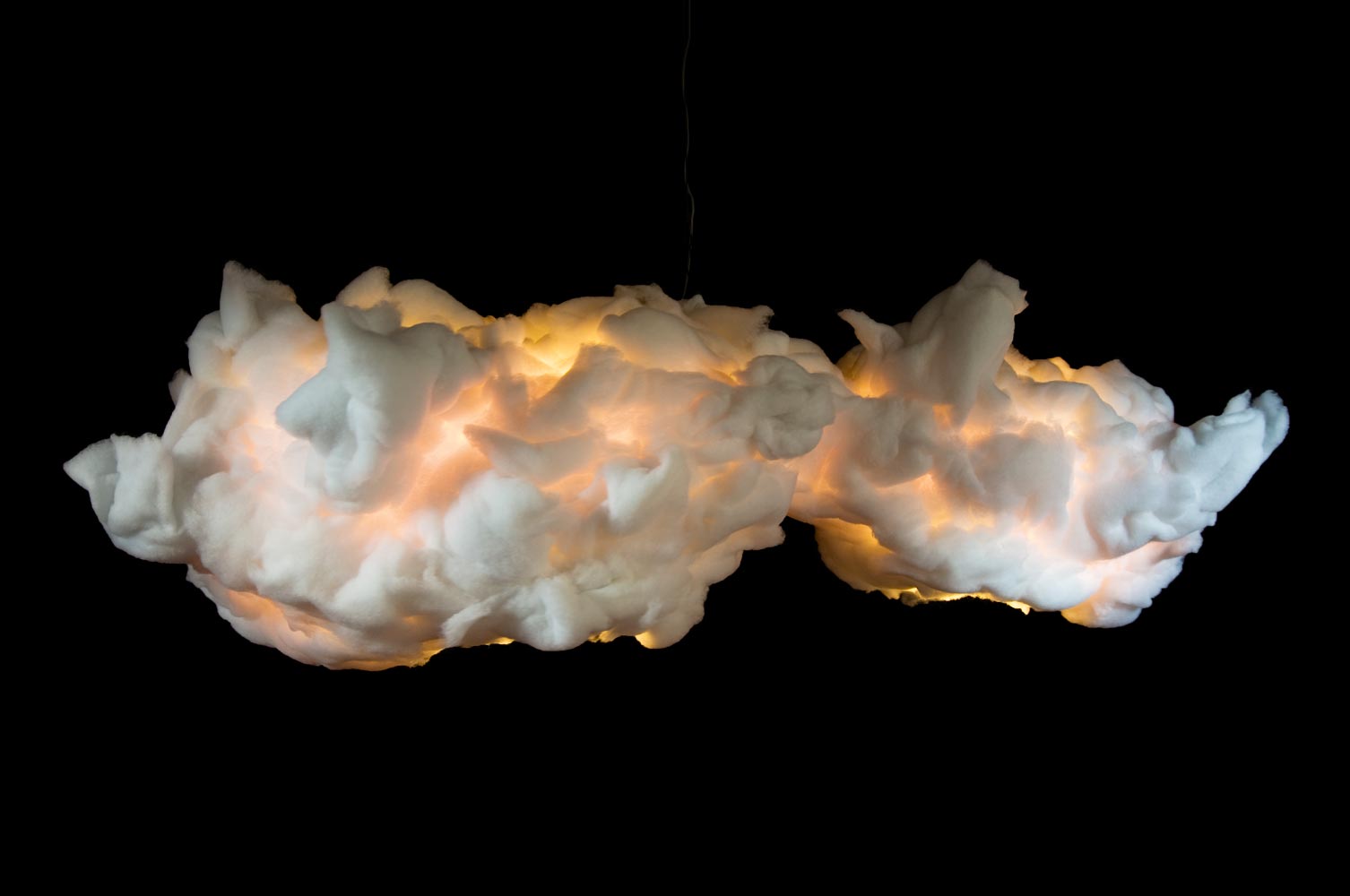 The cloud light 'le Nuage' is a pendant light object in the form of – and with the character of – a cloud. The exterior is made of polyester wadding, formed in such a way that there is a difference in the light's translucentcy. The energy-saving lightbulb is surrounded by a casco which has been specially treated to create a diffuse light with multliple colour variations. It gives 'le Nuage' the feeling of a cloud through which the sun is shining. 'le Nuage' is both ambient as well functional.
'Le Nuage' is suitable in homes, for example in living rooms, bedrooms and above dining room tables. It is also suitable for lobbies, restaurants, foyers, stores etc.
The larger models provide an atmospheric lighting in commercial buildings.
Product information
Material:             polyester wadding / 250 cm. transparent cord / canopy
Light source:    energy-saving lightbulb 23 watt
Format:               size and form, between 50 cm – 1000 cm, are determined in consultation with the client (prices on request).
Weight:               for example the 50 x 40 x 30 cm. model about 1kg.
Some indicative prices:
50 x 40 x 30 cm.     ………  € 295,00
80 x 50 x 35 cm.     ………  € 450,00
100 x 60 x 40 cm.   ………  € 650,00
(excluding the shipping costs)
How to purchase
Wout Wessemius is a self producing designer and applied artist. 'le Nuage' is not sold in stores and can only be ordered directly through Wout Wessemius. For information about 'le Nuage', to request a quote, or to place an order, please contact Wout.
Delivery time: for smaller models, a maximum of 6 weeks. For larger models, in consultation.