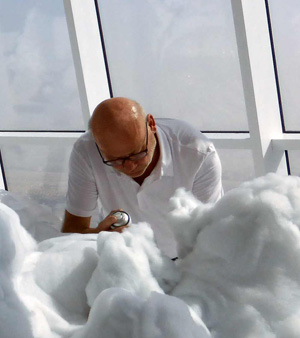 In 1978, Wout Wessemius graduated as an engineer from the H.T.S. (Higher Technical School) in Civil Engineering. After three years, bade farewell to his work as a general foreman and has been working as a designer and (applied) artist ever since. Initially, Wout Wessemius mainly designed interior objects in acrylic glass. Soon after, raw and natural materials were added, such as copper, lead, rubber, concrete, steel and wood.
From the outset, he has been involved in (interior) projects, and he designs – often in commission – unique art and design objects for both indoors and outdoors. His work has been shown in many exhibitions across Europe as well as in America, and his clients come from all around the globe. His light object in particular, 'le Nuage', has gone and is still going the world over.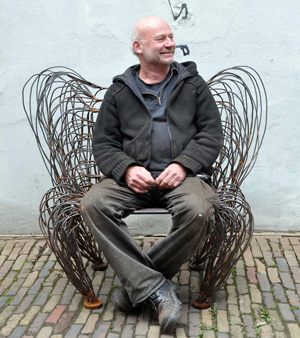 In the countryside in the province of Friesland, he built his own 'rubber' holiday home. He finds peace and inspiration here. Many of his designs originate in this place. Forms of nature inspire him and this fascination gives many of his designs a fluid, playful and sometimes whimsical appearance. He likes to experiment with the possibilities and impossibilities of the materials he works with. As such, his designs often come into existence in a playful manner and result in highly idiosyncratic works.
Wout creates all of his designs himself in his studio. His work is on show and for sale in his studio or in his showroom on the 't Voormalig Klein Poortje. He is available to design and create art and design objects in commission for individuals and companies. He is also open to participation in interior design projects for restaurants, hotels and other buildings.